UX CASE STUDY
Prime Dice
Gamifying agile task decision making. Providing stress relief in unexpected ways. A souvenir of a student's time at Prime Digital Academy.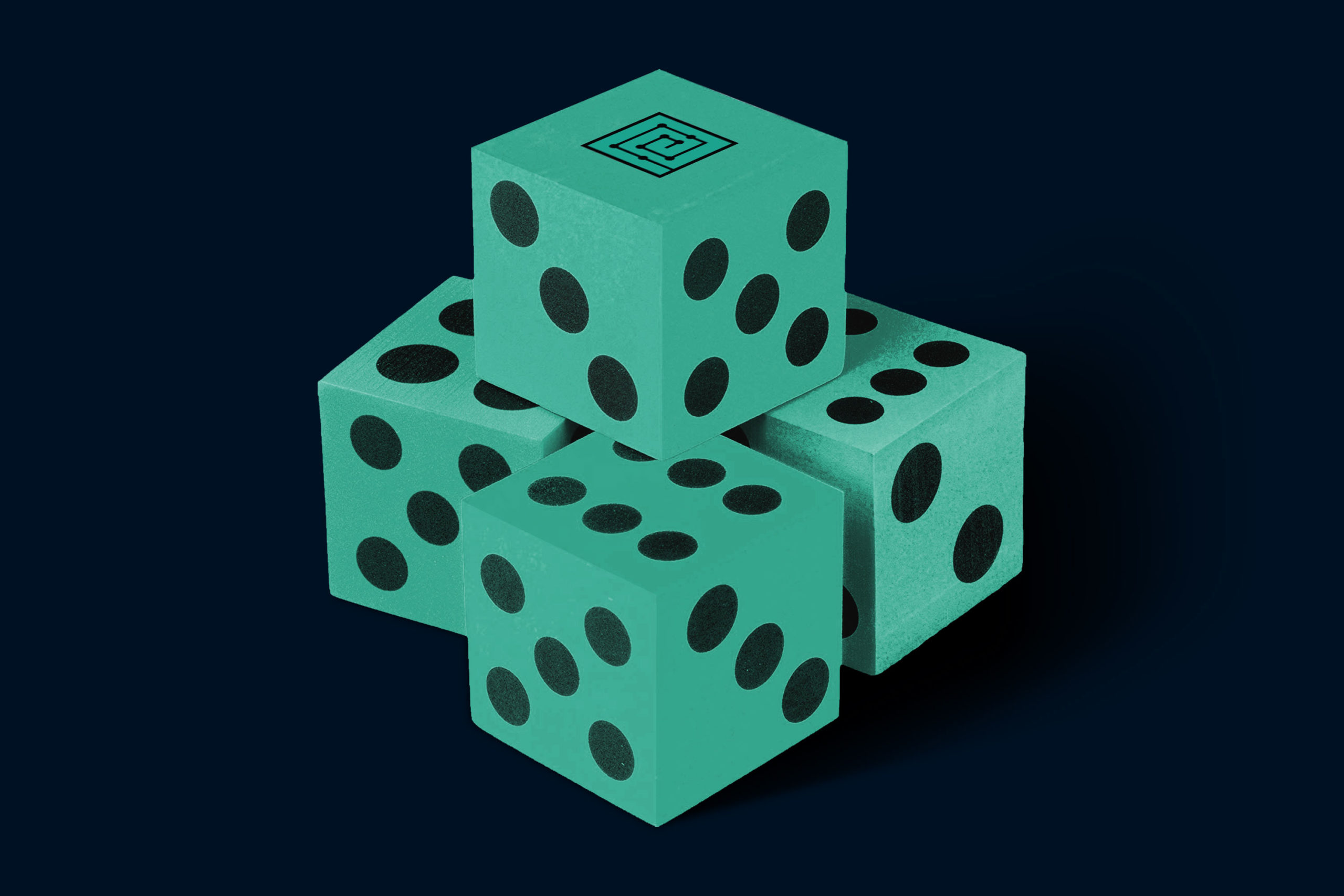 Introduction
THE CHALLENGE: Prime Digital Academy required a new welcome gift to give full stack development students upon arrival at campus on their first day of classes.
THE SOLUTION: After conducting user observations and research, I concluded that the optimal gift would be a six-sided foam die, presented in a Prime branded gift box. The die would be welcoming to new students. It would be useful as an agile decision making aid and a stress reducer (in multiple, unexpected ways). The die would also be useful at the student's jobs after Prime as desk ornamentation; a symbol of what they have accomplished, and a point of school pride.
Research & Observation
Observations and informal interviews were conducted with current veteran full stack students at Prime in the classroom setting. Utilizing AEIOU observation techniques, as well as concurrent informal interviews, several key themes emerged.
Students had no method to pick or assign programming tasks from their agile whiteboards.
Students need both physical and emotional methods of stress relief throughout the day.
Students want to feel welcomed when they arrive at Prime on their first day.
Design Concept
Several design concepts were ideated in a sketchbook, out of which the dice concept was selected for further development based on feedback from the design team.
Next, a low-fidelity physical prototype was fabricated. The prototype consisted of a foam die measuring 3″ square, fabricated from upholstery foam and marker ink, as well as a fitted presentation box made of cardboard.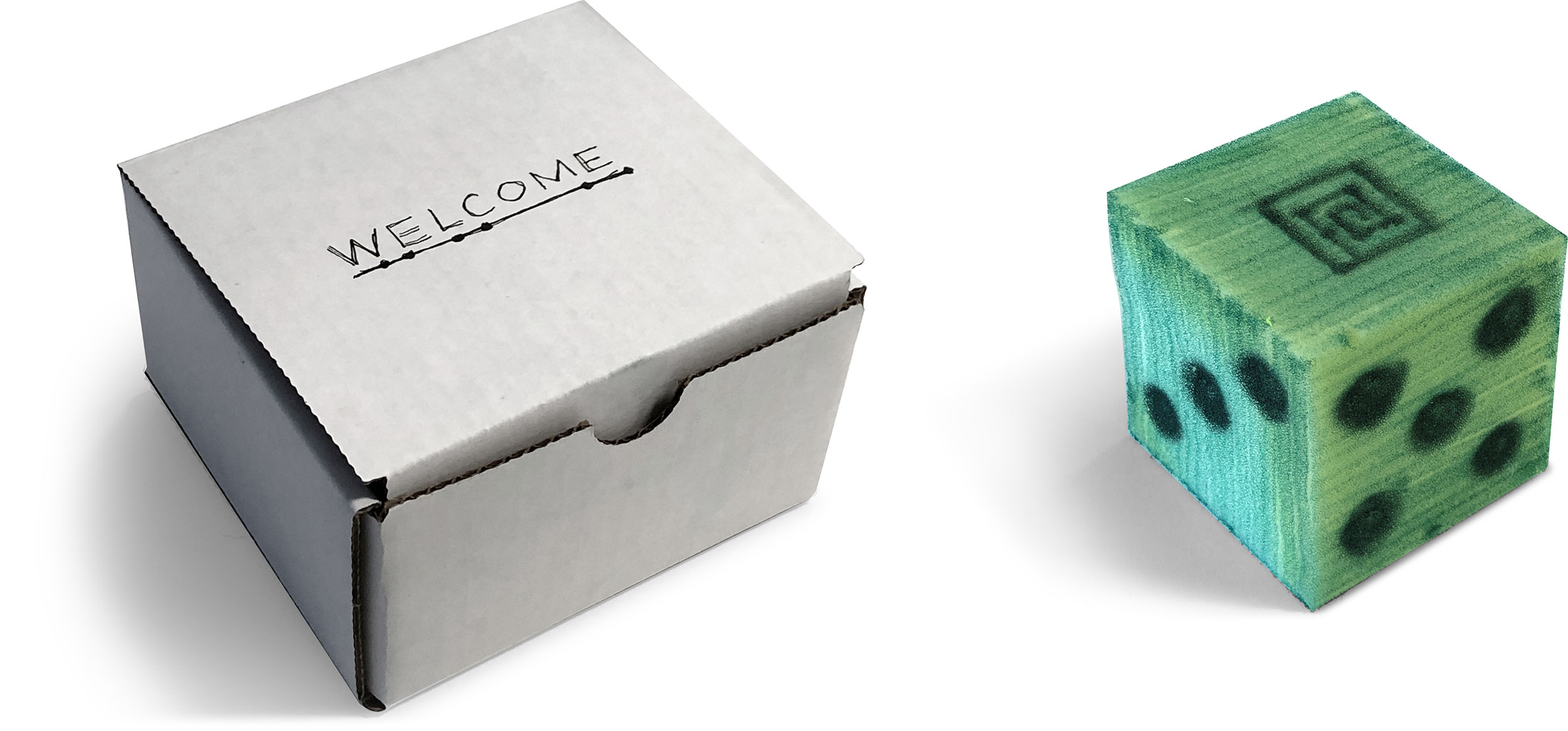 Concept Evaluation
The gift box and foam die prototype was presented to three current Prime full stack students to gain insight into whether the gift would be of use to them, and how. An evaluation methodology was developed, and reactions recorded on worksheets.
Key Findings:
All three students perceived the gift box as welcoming.
Upon opening the box, all three students thought the gift was confusing, but shortly after started to envision it's potential uses.
All three students suggested, without prompting, that the die could be used for agile white board task picking or task assignment.
All three students confirmed that the dice might be thrown at one another (i.e. "dice wars") as a form of stress relief; a more common response than expected.
Two students thought that the dice might be used for informal gaming or friendly, low-stakes betting.
Two students thought the die could be shown off as a point of school pride at their future jobs ("memorabilia shelf").
One student suggested that the die could be held in group feedback sessions to indicate who's turn it is to speak; an unexpected finding.
One student suggested that the die could be held up showing one of the numbers (1 thru 6) to indicate their emotional well being to the rest of the group; an unexpected finding.
Students were not sure if they would actually squeeze the die for stress relief; this function would be highly dependent on the selected foam material's tactile attributes.
One student suggested that "a culture might develop" around the die if everyone had one; an unexpected finding.
All students agreed that the die's design was consistent with Prime's brand identity.
Design Concept Presentation
After evaluation findings were synthesized, a presentation was given to Prime stakeholders to persuade them that the die with gift box was the best item to give new full stack students. The presentation featured a narrative format and active audience involvement. Some sample supporting slides from the presentation are below:




According to feedback received, the presentation was successful in persuading the audience that the foam dice gift should be given to new full stack students.
Design Refinement
Since the dice concept was positively received, further development is warranted. Based on feedback, future iterations would include the following refinements to gain better understanding of the object's usefulness:
Materials Exploration: Explore materials suitable for improved tactile attributes that users would perceive as enjoyable to squeeze in the hand. The manner in which the dice bounces when being rolled would also be considered. Materials for the gift box could be explored.
Graphic Improvements: To improve the aesthetics of the object and strengthen ties to the Prime visual identity, higher fidelity graphics for the sides of the die and gift box would be created.
You made it to the end. Nice.